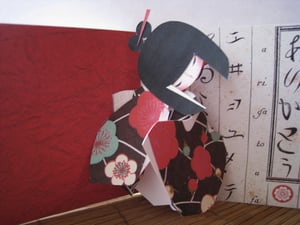 $

10.00
Inspired by the traditional Kokeshi doll, this pop-up card is created using watercolor and Japanese origami paper with cherry blossoms printed on her kimono celebrating Sakura Matsuri.
Printed on heavy card stock.
Handmade in Soho, New York City.
Size: 4.75in. X 4.75in.
Material: Recycled heavyweight card stock and ecologically friendly bookbinding pink momoiro book cloth from France. 100% biodegradable and acid-free PH neutral.
See images for choice of cover.
* 100% donated to the Japan Society Earthquake Fund for the first 10 cards
http://www.japansociety.org/earthquake